Sultan of Arts is a series of unique International Virtual Art Competitions in the following categories:
Classical Music, Ballet, Pantomime and Fine Arts
Honouring the Founders' spirit, we regard inclusion and equal participation as fundamental values for audition and assessment of the participant's entries, wherever in the world they may reside.
The aim of these competitions is to showcase the beauty of young artists' talent to the world through art and help them earn worldwide recognition.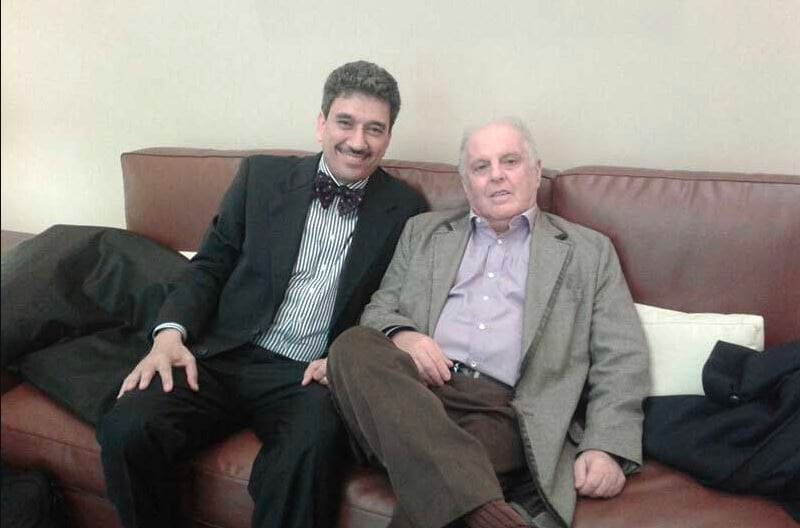 Daniele Barenboim and Sultan Alkhatib
Pianist, Choir Conductor And Specialist In History Of Art
Sultan Alkhatib is a well-known Pianist and Choir Conductor, born in Iraq in 1964, studied at the Music and Ballet School in Baghdad, and continued his studies at Bartók Béla Conservatory and Franz Liszt Academy of Music in Budapest, Hungary, 1982-1989.
Personal Life
Iraqi Pianist & Choir Conductor (Specialist in Classical music)
Born in Baghdad in 1964, he has two dates of birth (August 9, which is actual) and (August 13, which is official) and is due to a malfunction in the blogging system between the hospital and the citification Department.
His parents were Arts collectors
His father 'Abdul Ghayoor AlKhatib' had a construction company, and His mother 'Inam Munir' studied at the American University of Beirut, and then graduated from Cambridge University (Childhood pedagogy), His brother Najm alKhatib was an architect, who studied and lived in the United States. His uncle 'Hisham Munir' (Iconic Iraqi architecture)
Education
Music & Ballet School – Baghdad 1982
Bartók Béla Conservatoire – Budapest / Hungary 1984
Franz Liszt Academy of Music – Budapest / Hungary 1989
His teachers
TV interviews
Performed several concerts and lectured about different subjects on music at theatres, universities, opera houses, churches and cultural centres in Europe, the Middle East, North Africa and Asia
Founder & Conductor of the Iraqi National Choral Group
Presented several TV Programmes introducing Classical Music and Fine Arts
Published and lectured his research about music, fine arts, architecture and literature.
Doing research in analyzing the musical side of Haruki Murakami's novels
His YouTube channel has won the admiration of Daniel Barenboim
Has held various leading positions in several cultural institutions
Jury member of several international festivals
Founding member of the International Olympics of Arts, Based in Paris
Representative of the President of the International Olympics of Arts
Invited by UNEP on the occasion of the ceremony of World Environment Day, his concert was broadcast live via satellite
Performed in the Inauguration of AlOwais cultural foundation in Dubai
Reviewed two books about music
Tchaikovsky's A Self – portrait (610 pages)
Music in Ancient Arabia and Spain (303 pages)
Gallery
Newspaper Clippings
Arabic Newspaper Clippings
Students Newspaper Clippings
Fransz liszt music Academy
These Competitions Are Created, Organised And Promoted By Sultan Alkhatib, Executive Producer And Intellectual Property Rights Holder; And Managed By Tradify Services, TFS – Innovative Digital Business Solutions