Canvas Painting 101: Everything You Need To Know To Ensure Success
Canvas Painting for Beginners
Canvas Painting In a previous post, I discussed the different grades of watercolor paper so, in all fairness to the other mediums, this art supplies tutorial will give insight on how to prepare your canvas for the opaque mediums: oil, acrylic and pastel.
In leading art stores you will find already manufactured canvases and canvas boards. Some are very costly, such as linen ($20 for a 12- x 16-inch canvas), and you can even find the same size in a dollar store ($2.00 for a 12 x 16) cotton fabric. Is the cost worth it? Are the cheap canvases worth the savings?
I have tried the dollar store ones and discovered some of them are under-gessoed, so I add another layer of gesso. Shall I opt for the middle range? Artists are faced with this dilemma all the time, and I believe my professional insight will help you make the right decision.
Linen vs. Cotton Canvas
Linen is the most costly surface of them all. Many professionals note their plein air paintings are done on this surface. This gives the impression they can afford it and are successful. In fact, you will often see the title of the painting plus "on linen" specified under their paintings.
I admit linen is more cooperative than cotton as a painting surface. But I don't feel it's worth the additional cost unless you are being paid for that painting or know you will sell it. The collector will feel prouder of the acquisition knowing you used the top materials.
Additionally, duration isn't a reason to justify favoring either cotton or linen because both use the same primers. Some artists complain the weave of a cotton canvas is too mechanical, whereas with linen it is more random. Also worth noting, many top landscape artists resort to dry brushing; linen lends itself nicely to these effects because some areas of the weave bulge more.
Unless you have money to spare I don't think the expense merits working on a linen canvas for painting. Both cotton and linen canvases are either primed with acrylics or oil. canvas painiting . Acrylic gesso-primed surfaces have a bit more friction, giving you more brush control for detail, whereas oil-primed surfaces are more slippery (Note: Do not use oil-primed canvas for acrylics.)
Neither one is better than the other. It's a personal preference. Both of these fabrics are either stretched and mounted on wooden bars or glued on cardboard boards and commercially sold. In my opinion, presenting a painting on a cardboard board looks cheap to a collector even if linen is mounted on it. It also will not offer enough protection against humidity or insects.
Stretched (canvas painting) canvases will increase the price. Some artists like the spring or feeling of a tight drum of the stretched canvas. To me, it makes no difference. As a side note, I feel too much instructional attention goes to art supplies rather than to the building blocks of good painting design. If you are competent in techniques, the surface is not much of an issue.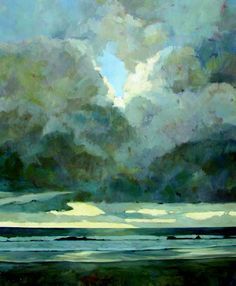 Preparing Your Painting Surfaces
If you have the time to prepare your own painting surfaces and want to save a bundle, especially if you paint a lot, read on for some options you can experiment with. If you still want to use linen or cotton you can buy it by the roll, cut out your own sizes and then glue them to wooden panels.
You can use acrylic gel medium as glue for a few units or buy a gallon of Miracle Muck glue if you intend to make them in series. The cost per unit will considerably drop since the labor is no longer factored in.
Mounting these on stretcher boards is not worth the work, so forget that. The best option is to order an 8- x 4-foot birch wood panel at a lumber store and have them cut this panel into smaller units. I mostly work on 9 x 12, 11 x 14 or 12 x 16 canvases for outdoor painting and my online art demos.
Because lumber stores do not usually charge for cutting, the savings are substantial.These raw boards are good for absorbing the glue as well. You'll end up with quite a few individual boards.
Once you have these units, you have the following two options:
Paste sections cut out from a roll. In case you decide to paste from a roll, make sure the size is a 1/4 inch larger on each side to compensate when the fabric shrinks when it gets wetted by the glue. Then, cut off the residue. This still takes some work.
Gesso your own surface. Take into account thin boards will warp when they become damp. Wet both sides when adding the glue or gesso. You can use 1/8 inch boards for small panels; 1/4 inch will be necessary for larger sizes; 1/2 inch for 24×30 inches or larger. Birch wood is light weight, so these canvases are handy for transporting on a plein air painting trip.
Applying Gesso
The most viable option, in my opinion, is to gesso your own painting surface. Again, the success of a painting is in your decision making (that's where my online classes will benefit you), not the surfaces. Canvas Painting I am a lazy artist and want to do the least work possible. I prefer to gesso panels instead of pasting canvas. There are three options when it comes to gessoing your surface:
A flat, smooth non-textured gesso. This is suitable for fine detail such as wild life and portraits. Apply three coats and do not water down.
A mildly textured surface. Gesso with Liquitex Super Heavy Gesso using a fine fabric roller. Do not water down. This will leave some pointed protrusions and will work well for dry brushing, which is a technique I often use to indicate foliage and grass in landscape paintings. Give a sanding after each coat so the protrusions aren't too predominant. Apply only two coats. I find these prepared panels to work the best for small sizes.
Heavy textured surface. This is an excellent option to show convincing landscape texture. You can save a lot of money on paint as well. I would use this for painting larger than 16 x 20 inches. The rule of thumb is small panels should not take on heavy texture for simplicity; increase the texture as the size get larger. Do your general landscape drawing on the first layer of Liquitex Super Heavy gesso done in a smooth application. Apply a second coat straight out of the container in the same manner and paint your shapes by applying heavy loads on your brush.
For example, a waterfall will have downward strokes following the water movement. Trees would take on broken, choppy strokes. Paint rocks with "band aid strokes" or even a palette knife with white heavy gesso.
Remember, you're emulating the actual colored pigment application. Pretend you are actually painting. Leave the smooth areas that will not have texture for contrast such as lakes, rivers and skies. It is important to have the smooth vs. textured areas so the texture stands out when contrasted with the smooth areas.
Allow the now gessoed surface to dry a couple of days, then apply the paint. But in this case, you do not need to apply heavy paint because you did that already with the gesso — a great savings technique!
Canvas Painting Remember a 12 x 16 panel may warp, so wet the opposite side as you apply the first layer of gesso. This whole procedure will enhance the painting and help convey a three-dimensional aspect.
Toning a Canvas
At this point, you might be thinking: This is great, but what do you do when working with pastel? Pastel paper is known to come in different colors. You can also tone your canvas before you paint. I use burnt sienna acrylics with very little water and apply a thin transparent wash over the white canvas. You can do this on any gessoed surface.
The advantage of toning is when you apply thin paint in the dark areas, such as in summer trees, some of that orange will glow through. I do this for green trees. You can also tone your canvas to a blue-gray in case you do a nocturne or foggy day. That cool background will influence the colors. This also helps avoid having little white dots where paint didn't completely cover the canvas.
Preparing Painting Surfaces for Pastels
Most of the time pastel artists paint on sanded paper. Some may not find this very presentable to collectors because the painting is done on "paper," and the artist may want to give them a more handsome, sturdy presentation.
You can prepare your own pastel boards with a pastel ground sold in major art stores, then simply follow the instructions on the container. Good luck and happy art-making, artists!

---