Pantomime is an art that has been around for centuries. Pantomime is a form of acting that uses only facial expressions and body language to tell a story. Pantomime artists are often very skilled in make up and costume design, as they need to be able to transform themselves into different characters.
Pantomime is a great way to entertain children, as it relies heavily on audience participation. It can also be used to tackle more serious topics, such as social issues or political satire.
If you're interested in learning more about pantomime, then this guide is for you. We'll cover everything from the history of pantomime to the different techniques used by pantomime artists. So without further ado, let's get started!
Alongside some gender reversal roles, slapstick comedy, colourful costumes and audience participation, the 'panto' seems to be a quintessentially English tradition. pantomime is ingrained in British theatre and is still popular today. But for many, little is known about its origin, how pantomime started, and where it came from.
This guide will also ask some of the key questions:
What is a pantomime?
What are some examples of pantomime?
Traditional elements of pantomime
How pantomime started
Why are pantomimes at Christmas?
What could be a pantomime?
What is a pantomime?
A pantomime is a theatrical performance, which differs from the traditional theatre in many ways. It is traditionally aimed at children, however, it can be enjoyed by all generations.
Some standout characteristics of a pantomime include:
Gender role reversal
A storyline of good vs evil
Slapstick comedy
Colourful, eccentric costumes
Audience participation
Likely derived from a fairy tale or nursery story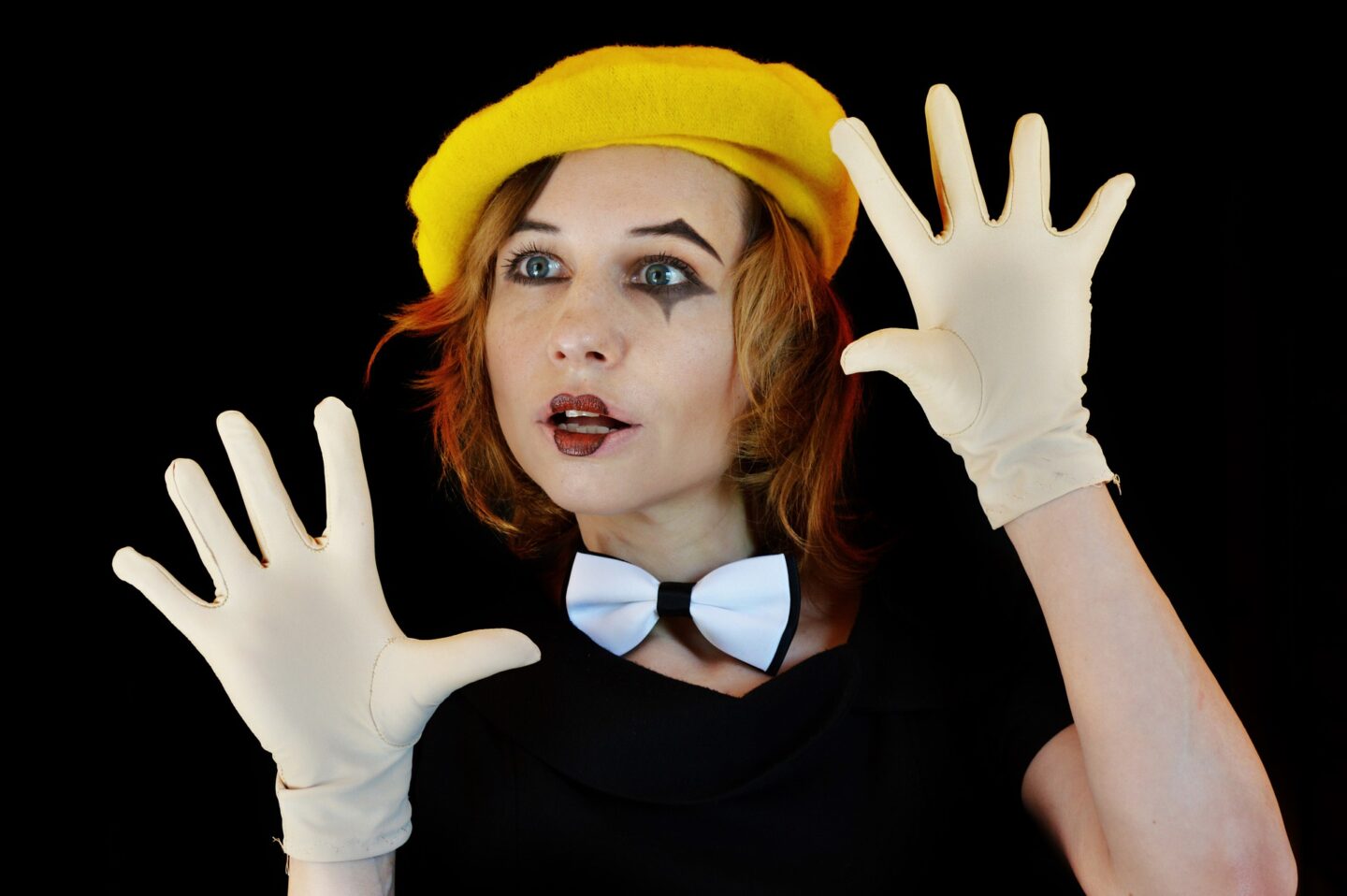 What are some examples of pantomime?
Some popular pantomimes include:
Dick Whittington
Snow White and the Seven Dwarfs
Sleeping Beauty
Cinderella
Jack and the Beanstalk
Aladdin
Peter Pan
Mother Goose
Beauty and the Beast
Babes in the Wood (with elements of Robin Hood)
Traditional elements of a pantomime
The main traditional elements of a pantomime are:
Principal Boy
Principal Girl
The Villain
Good/Bad Fairy
Comedy characters
Panto animal
Slapstick scene
Singalong (involving audience)
Pantomime Meaning
The phrase pantomime derives from the Greek word 'Pantomimos', which is defined as a performer acting all the roles in a story, or an 'imitator of all.'
How Pantomime Started
Pantomime is a type of theatre is classified as Commedia dell' Arte, a theatre genre originating in renaissance Italy. Beginning in the 16th Century in Venice, it was first popular amongst Royals and commoners. The audience enjoyed the improvisation, comedy, costume and performances in general. The audience participation, songs and music were other factors that saw this style of theatre grow in popularity.
It was also the first time women were introduced to the stage. Traditional characters in the early pantomimes included young lovers, old men and servants, some of which still translate into the characters we see in some of our most loved pantomimes today. This style of theatre is said to have influenced Shakespeare in writing both 'Twelfth Night' and 'A Midsummer Night's Dream.'
Pantomime could be best described as a type of musical comedy production designed for the family entertainment audience. Established in England and in some other English-speaking countries, especially during Christmas (nowadays, you could catch pantomime at Easter and in the summer). Outside the UK however, the word 'pantomime' is often understood to mean miming.
Where Does British Pantomime Originate From?
In the Middle Ages, at Christmas gatherings a traditional English folk play called 'Mummers Play' was popular. It contained many of the archetypal elements of a pantomime such as stage fights, risqué humour, memorable creatures, gender role reversal, and the obligatory good defeating evil.
In the first two decades of the 18th Century, two competing London theatres, Lincoln's Inn Fields Theatre and the Theatre Royal, Drury Lane presented productions that began seriously with classical stories that contained elements of opera and ballet and ended with a comic 'night scene'. Tavern Bilkers, by John Weaver, the dancing master at Drury Lane, is cited as the first pantomime produced on the English stage. However, the production was not a success, Weaver waited until 1716 to produce his next one, The Loves of Mars and Venus – the same year he produced another on the subject of Perseus and Andromeda. Following this, pantomime was a regular at London's Drury Lane.
Pantomime in the 1800s
By the 1800s, children were regularly going to the theatre around the Christmas and New Year holidays (and often at Easter) to watch the craziness of the harlequinade chase scene – the most exciting part of the 'panto' of the time because it was fast-paced and included spectacular scenic magic as well as slapstick comedy, dancing and acrobatics.
Despite its visible decline by 1836, the pantomime still fought to stay alive. Two writers who helped to elevate the importance and popularity of the fairy-tale portion of the pantomime were James Planché and Henry James Byron. They emphasized puns and humorous wordplay, a tradition that continues in pantomime today.
Pantomimes in the UK
Today, pantomimes include songs, gags, slapstick comedy, dancing and special effects. It employs gender-crossing actors and combines topical humour with a story more or less based on a well-known fairy tale, fable or folktale. Its biggest draw is as a participatory form of theatre, in which the audience is expected to sing along with certain parts of the music and shout out phrases to the performers.
Pantomime has a long theatrical history in Western culture dating back to classical theatre. It developed partly from the 16th-century commedia dell'arte tradition of Italy and other European and British stage traditions, such as 17th-century masques and music halls. An important part of the pantomime, until the late 19th century, was the harlequinade.
Why are Pantomimes at Christmas?
One of the reasons pantomime is so popular is due to its universal appeal; traditionally a show for children, adults find themselves returning to the panto for nostalgic escapism, as well as to take their own children, or to enjoy themselves with family members and friends. This is also part of the reason why they have become so popular at Christmas, seen as a Christmas tradition to enjoy each year and reunite with friends and family to celebrate the festival season.
As pantomimes are generally enjoyed by children, it was back in the 1800s when it became popular for children to experience a panto at Christmas. Seen as a treat to particularly enjoy at Christmas, at the time pantomimes involved more acrobatic performances, and dramatic dancing, rather than the more established structure of pantomimes today.
Additionally, in the Tudor period, a popular festival called The Feast of Fools was celebrated. The feast included eating, drinking and role reversal, which is one reason Pantomimes are now traditionally performed at Christmas.
Another reason is that the founder of the Harlequin character, a prominent figure in the growth of pantomime, was established by John Rich and later David Garrick (more here), who only limited his performances to Christmas time.
Origins of Harlequinade in Pantomime
The name "Pantomime" was first introduced by John Rich in the 18th century. This painting, uncovered in 2015 is the only known likeness of John Rich. It has been fully restored and hangs in a museum in London.
John Rich, known as the father of pantomime was born in 1692 and managed the Lincoln's Inn Theatre, where under the stage name Lun, he appeared as the colourful dressed, silent Harlequin performing magic tricks and dances; his performances also included gender reversal roles and humans dressing up and playing animals.
The Harlequinade's popularity was growing, and in 1746, David Garrick's adapted version of the Harlequin not only spoke but also used colours on his costume to convey his emotions. Another distinction to this Harlequin was that Garrick only limited his performances to Christmas time and thus began a new legacy.
After Rich had died in 1761, Garrick had said this about his legacy:
"When Lun appeared, with matchless art and whim, he gave the power of speech to every limb: Tho' masked and mute, conveyed his quick intent, and told in frolic gesture what he meant.